Creative Technology Ltd announced the latest addition to its Sound BlasterX Pro-Gaming Series, the Sound BlasterX AE-5.
The sound card features the world's best gaming headphone amplifier for PCs. The Sound BlasterX AE-5 delivers the ultimate audio performance with the full force of a 122dB 32-bit/384kHz ESS Sabre™ DAC, a kick-ass custom-designed 600Ω discrete headphone amp, audiophile-grade components, and proprietary Sound Blaster audio enhancement technologies.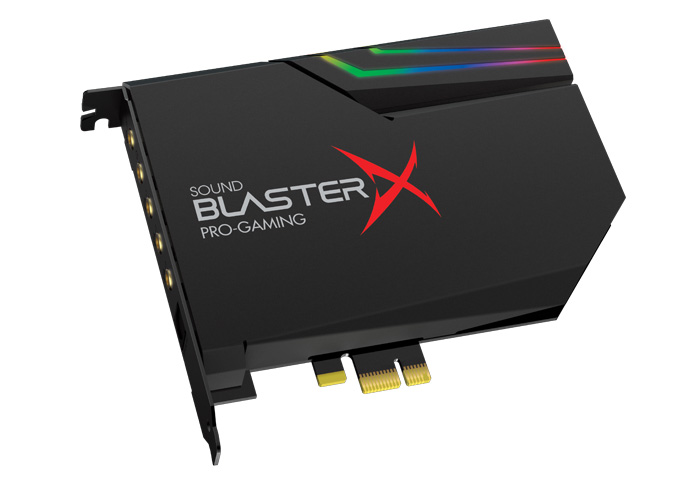 Delivering an industry-leading gaming headphone amplification experience, the on-board headphone amplifier is custom-built using discrete transistors and audiophile-grade WIMA® film/foil capacitors in a dual-amp design to satisfy the most demanding needs of today's intense games and high-resolution audio. Experience the difference of a discrete dual-amp design as each audio channel is individually amplified to deliver pristine, uncompromised audio. Plus, the high heat resistance of the German-made WIMA capacitors greatly reduces noise and audio interference. The Xamp's ultra low 1Ω output impedance also makes it perfectly capable of driving sensitive in-ear monitors as well as studio-grade headphones from 16Ω to 600Ω.
At the heart of the Sound BlasterX AE-5 sound card is the quad-core Sound Core3D audio DSP and a 122dB ESS Sabre-Class DAC that instantly boosts regular motherboard audio with up to 32 times more clarity. The premium audiophile-grade DAC with its high dynamic range indulges users with up to 32-bit/384kHz lossless playback and true audio fidelity for high-definition audio in games, movies, and music.
Updated, refined and perfected through years of being the leader in sound processing, Creative's AE-5 is feature-packed with the latest and greatest version of Creative's award-winning audio processing and algorithms that improve music, movie and gaming experiences. The legendary Sound Blaster technologies provide fully customizable DSP-powered audio enhancements, crystal-clear vocal reproduction, in-game voice communication enhancements, 7.1 virtual surround sound and other advanced audio technologies.
The Sound BlasterX AE-5 card is the first sound card to feature a built-in RGB controller that comes with the Aurora Reactive Lighting System. A separate RGB lighting system could set a user back by at least USD 50, but now, this is built into the card itself with the AE-5: giving users amazing value and performance for their system. This also means that valuable space within a gamer's desktop can be saved for other components.
The RGB controller, powered by Creative's very own Aurora Reactive Lighting System, not only lights up the card through the PCB, but also gives gamers the flexibility to build their dream gaming rig by connecting up to four LED strips to match the awesome sound with an awesome light show. The fully customizable Aurora Reactive Lighting System allows users to choose from multiple presets or program it with up to 16.8 million colors and various rhythms to choose from, using the Sound Blaster Connect PC software.