The combination of innovative design and unmatched performance is why Dell Precision is the No.1 workstation provider worldwide¹.In fact, five out of the last seven visual effects Academy Award winning movies used Precision workstations to render their incredible special effects, including this year's winning movie, Bladerunner 2049. The world's most powerful mobile workstations have been redesigned to be thinner, lighter, smaller and "Ready for VR" combining maximum performance with maximum mobility.
The Dell Precision 7730 and 7530 mobile workstations deliver extraordinary results with latest 8th Gen Intel® Core™ and Xeon® processors, AMD Radeon WX and NVIDIA Quadro® professional graphics, industry-leading 3200MHz SuperSpeed memory, and the largest memory capacity for a mobile workstation up to 128GB. The Dell Precision 7530 is the industry's first 15-inch "Ready for VR" mobile workstation. Both mobile workstations also are equipped with leading technology to handle complex, creative workloads . The Precision 7530 offers superior performance with the largest PCIe SSD storage capacity available for a 15-inch mobile workstation: up to 6TB, while the 7730 enables new use cases like AI and machine learning development and edge inference systems.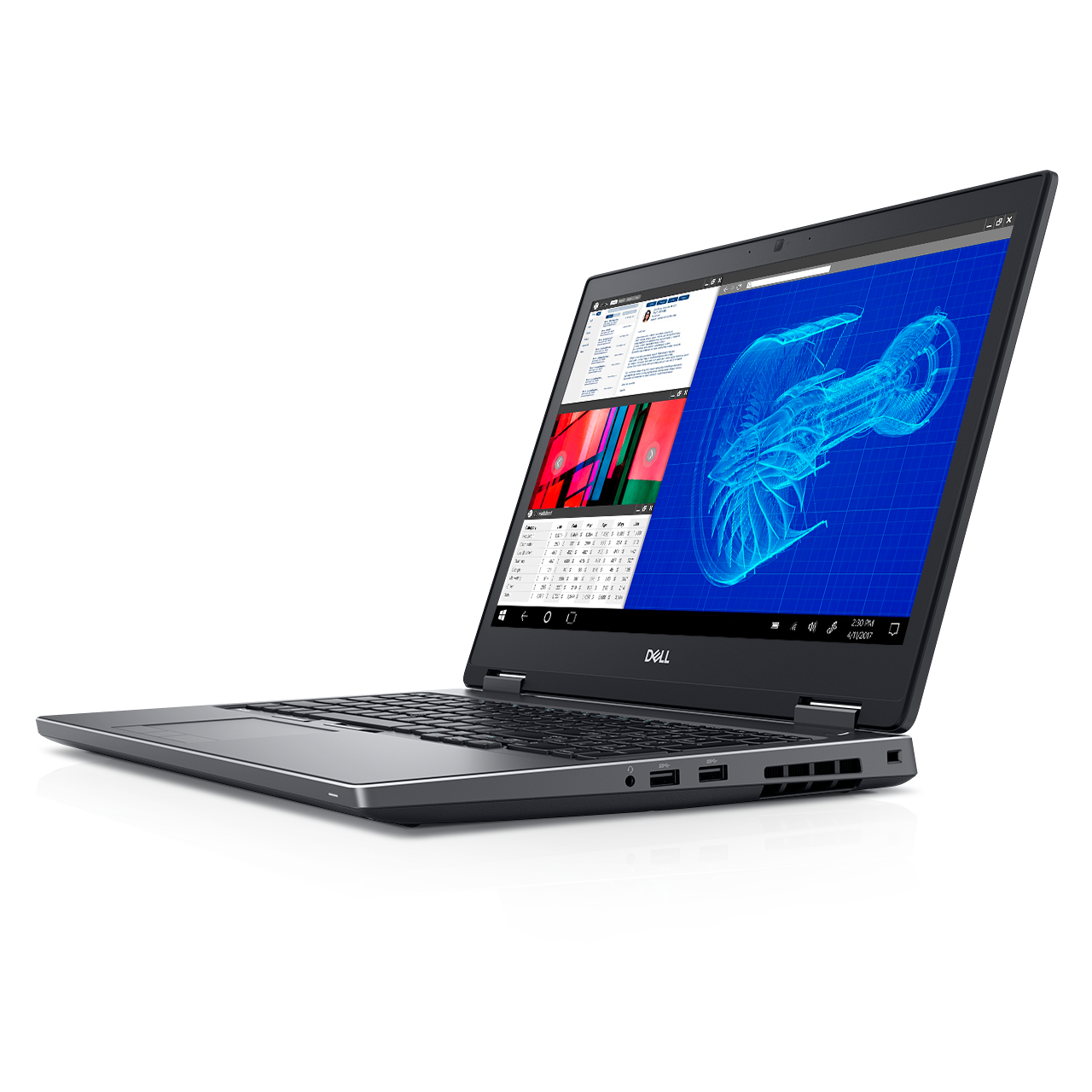 The world's smallest 15-inch 2-in-1 mobile workstation, the Dell Precision 5530 2-in-1, delivers the performance workers need for rich content creation and editing in a beautiful and impossibly-thin design . A flexible 360-degree hinge enables multiple modes of interaction, including support for touch and pen. The next-generation InfinityEdge 4K Ultra HD display ensures users can be confident their work is presented true-to-life in incredible detail. Dell Premium Pen delivers precise pressure sensitivity (4,096 pressure points), tilt functionality and low latency for an experience as close to sketching on paper as possible. The new MagLev Keyboard design reduces keyboard thickness without compromising critical keyboard shortcuts in content creation workflows, and Ultra-thin GORE™ Thermal Insulation keeps your system cool while delivering workstation class performance.
Dell's smallest 15-inch mobile workstation, the Dell Precision 5530, delivers an exceptional front of screen experience with next generation InfinityEdge 4K Ultra HD displays that offer better contrast ratios, touch support and picture quality with new IGZO 4 display options. More powerful than ever before, the industry's best-selling thin and light mobile workstation weighs just 3.9 pounds and delivers next-generation professional graphics up to NVIDIA Quadro® P2000. With enhanced 2666MHz memory speeds up to 32GB, users can easily accelerate their most complicated workflows. And with up to 4TB of SSD storage, users can a ccess, transfer and store large 3D, video and multimedia files quickly and easily, a feat rarely seen on mobile workstations with such a thin and light frame. The fully customizable 15-inch Dell Precision 3530 mobile workstation delivers the power of a workstation at a price comparable to a PC, with 8th Gen Intel® Core™ and next-generation Xeon® processors, memory speeds up to 2666MHz and NVIDIA Quadro® P600 professional graphics. And with its 92WHr battery and wide range of ports including HDMI 2.0, Thunderbolt and VGA, users will remain mobile and productive.